Image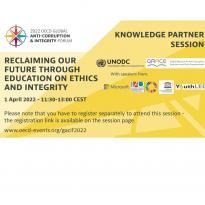 "Reclaiming our future through education on ethics and integrity" on 1st April , 11.30-1pm CEST .
This session is organised by the United Nations Office on Drugs and Corruption (UNODC), Knowledge Partner of the virtual 2022 OECD Global Anti-Corruption & Integrity Forum. UNODC's "Global Resource for Anti-Corruption Education and Youth Empowerment (GRACE) initiative", aims to promote the role of education and youth empowerment in preventing and countering corruption.
The event will discuss the importance of teaching on ethics and integrity, and sharing experiences and lessons learned in this area by engaging speakers and audience in interactive conversations. It will also focus on sharing new insights in the area of education and youth empowerment on ethics and integrity, and presenting innovative ways of working with various stakeholders, while leveraging the advancement of information technologies for learning.
IAU Secretary General Dr. Hilligje van't Land will be presenting on the role of universities for anti-corruption efforts and take part in the panel discussion.
Register here for the event!
Latest update: 18.09.2023