Image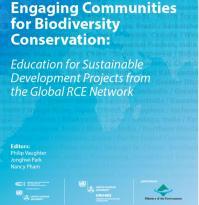 UNU-IAS and the RCE Network have launched a new publication on Engaging Communities for Biodiversity Conservation
RCE Biodiversity Publication
A new publication from the United Nations University Institute for the Advanced Study of Sustainability (UNU-IAS), 'Engaging Communities for Biodiversity Conservation: Education for Sustainable Development Projects from the Global RCE Network', features 12 innovative biodiversity education projects developed by Regional Centres of Expertise on Education for Sustainable Development (RCEs) during the GAP from 2015-2019.
Launched in April 2022, each project featured in the publication looks at how RCEs - in the face of local biodiversity issues and challenges - developed innovative ways to bring about action through education in their local context and region, bridging formal and non-formal education, as well as how these can be upscaled across other communities worldwide.
With a focus on SDG 14 (Life Below Water) or SDG 15 (Life on Land), each project served to educate, engage, and spur action in communities towards the protection and restoration of ecosystems, species, and habitats.
Find out more: https://bit.ly/3KwWsAf
View the publication: https://bit.ly/3DZSLAO
RCE Biodiversity Video
Throughout the Global Action Programme (GAP) on ESD from 2015-2019, RCEs conducted a total of 135 RCE projects across 30 countries focused on SDG 14 (Life Below Water) or SDG 15 (Life on Land). This video takes a look at some of the trends from these biodiversity education projects and highlights work being carried out from a number of RCEs on biodiversity conservation and ecosystem restoration.
Watch it on YouTube: https://www.youtube.com/watch?v=tRxn3vAuIv4
And read more about the projects featured in the RCE publication here: https://bit.ly/3DZSLAO
Latest update: 18.09.2023