Image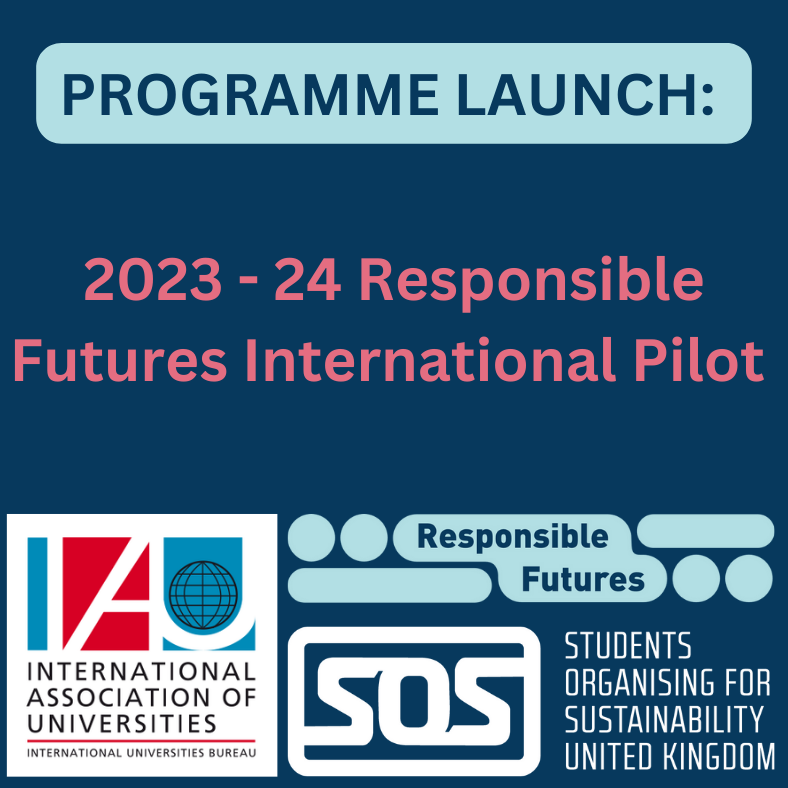 The IAU is pleased to announce its partnership with Students Organising for Sustainability (SOS-UK), for the international adaptation of the Responsible Futures programme, that SOS-UK already has been conducting with further and higher education institutions for almost 10 years in the UK.
Responsible Futures is a whole-institution approach to embedding holistic sustainability across the formal and informal curriculum in higher education. It is a supported change programme and accreditation mark that works to put sustainability at the heart of student learning. The Responsible Futures framework assists in creating an environment for staff and students to work together, in partnership, to embed sustainability throughout teaching and learning. The programme legitimises and mainstreams education for sustainable development (ESD), ultimately helping to ensure students leave education with the knowledge, skills, and attributes needed to create a more just and sustainable society. The framework facilitates a close working partnership between student representatives and their institutions through a set of criteria drawn from good practice across the sector. Thirty-nine partnerships across the UK have joined Responsible Futures since its launch in September 2014. Collectively, they represent nearly 700,000 students. For more information see the RF programme website.
International Pilot Launch Workshops
With two workshops taking place online on 3rd and 5th October, the IAU and SOS UK successfully kicked off the international pilot of the RF programme with the first group of universities. The universities participating in the pilot are IAU members who have been invited on board in recognition of their existing commitment to sustainable development and working with an SD strategy at the whole institution. Pilot universities will play a leadership role in working with IAU and SOS to co-create an international RF framework and shape how the international programme is designed and delivered. Around 35 participants joined over the two days, next to SOS UK and IAU facilitators, staff and students from the following universities:
Murdoch University, Australia
Mykolas Romeris University, Lithuania
Queens University, Canada
The University of the West Indies (UWI), Caribbean
Trinity College Dublin, Ireland
Women's University of Africa (WUA), Zimbabwe
Furthermore, representatives from the University of Derby and the University of West of England, both institutions have been involved in the UK Responsible Futures for a number of years, shared how RF created new possibilities and developed initiatives with lasting impact for coordination of institution-wide sustainability engagement.
Participants reported on existing sustainability activities and challenges to reach all part of the institution. The programme aims to support them in overcoming institutional barriers and putting systems in place that will encourage the development of lasting sustainability initiatives. In addition to introducing participants and defining aims and objectives, the workshops served to review of the RF framework and exchange experiences.
Next steps
Next steps will include further individual meetings with institutions, support consultations, and preparing a possible audit. This first round of the IAU-SOS Responsible Futures pilot will conclude in summer 2024, and its results will be presented at the IAU International Conference 2024 in November 2024 (more details will be announced shortly). IAU Members interested in participating in the Responsible Futures International in 2024 are invited to contact Isabel Toman to receive further information on requirements and timelines.
Latest update: 02.11.2023