Image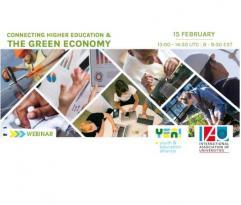 Recording available! Sign up for follow up activities
The recording of the event "Connecting Higher Education and the Green Economy Community: Workforce Development for the Clean Energy Transition and Climate Solutions" is now available.
Watch it here on the IAU YouTube channel: https://bit.ly/3Hxx7UP
Tuesday, 15 February 2022 | Time: 13:00 - 14:30 UTC / 08:00 - 09:30 EST

Geared towards the higher education community and focused on the need for a green economy, this event provided an overview about how to update all academic areas to help create an inclusive and skilled workforce to address the climate crisis and provide careers that support sustainable development. The event presented strategies and resources to help educators and employers improve curricula, placement processes and assist career advisers.
The event made use of the newly launched the Global Guidance for Education on Green Jobs, a document that provides insights and empowerment for effective actions, a collection of key resources, and an opportunity to join an international community of practice. The primary audiences for this initiative and related events are higher education rectors and top administrators, career advisors for students and alumni and teaching staff in all academic areas, as well as businesses, NGOs, and governments in support of the green economy and sustainable transformation.
The discussion underlined the initiative's main understanding of how higher education, both universities and technical institutions, can better connect with employers for curricular updates, internships and placements. This event is part of a larger initiative designed to connect a stronger supply of necessary green and environmental sustainability skills through education with a growing demand for green jobs in the workforce. The initiative is housed at UNEP and includes input from multiple expert organizations, including IAU as a host of this kick-off event. Higher education and other attendees are invited to learn, discuss and to more effectively interact with employers to provide the workforce they need.
Latest update: 18.09.2023