Image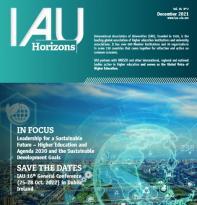 Discover the magazine with 34 diverse and innovative contributions in the 'In Focus' section on sustainability from IAU Members and Partners!
The December issue of IAU Horizons offers insights on value-based leadership in higher education, internationalization and strategies in the (post)-Covid era. Additional topics cover the role of HE and research in sustainable development and the disparities of digital transformation in HE.
The In Focus section features a collection of inspiring papers on Leadership for a Sustainable Future – Higher Education and Agenda 2030 and the Sustainable Development Goals with contributions from HE leaders from 25 countries worldwide.
Read, download and share now: https://iau-aiu.net/IMG/pdf/iau_horizons_vol_26_2.pdf
-------------------
New Call for Papers: IAU Horizons Magazine - Reinventing Higher Education? See here: https://www.iau-aiu.net/Call-for-Papers-IAU-Horizons-Magazine
Previous issues of IAU Horizons can be found here: https://iau-aiu.net/IAU-Horizons
Latest update: 19.09.2023