Image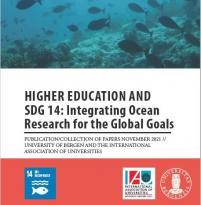 Discover the publication with papers on SDG14 collected by the University of Bergen and IAU!
Universities for SDG 14
– "The ocean we need for the future we want!"
The United Nations has proclaimed a Decade of Ocean Science for Sustainable Development (2021–2030) to support efforts to reverse the cycle of decline in ocean health and gather ocean stakeholders worldwide behind a common framework that will that ensure ocean science can fully support countries in creating improved conditions for sustainable development of the Ocean. This comes at a time of global crisis and disruption, not only in the higher education sector; it impacts sectors and systems. Despite having to overcome several challenges, universities and other higher education institutions (HEIs), their leadership, academic and administrative staff and students, in all parts of the world, are becoming increasingly aware of and actively engaged in the United Nations Agenda 2030 and the related Sustainable Development Goals (SDGs). Research and teaching, campus life and community engagement within HEIs are of special importance to SDG 14: Life below Water, itself also strongly linked to SDG 13 – Climate Action, as well as the other SDGs in general.
The publication attracted early-carrier researchers as well as established academics and teaching staff, all working on cross-cutting issues related to SDG 14. This unique publication now includes 11 papers with concrete examples of meaningful research, strategies, initiatives and projects strengthening ocean science, education, and the links between SDG 14 and other SDGs. The authors are connected to higher education institutions and organizations from around the world, from Norway to South Africa, from Fiji to Canada, and the Netherlands. The publication marks the launch of new initiatives and collaboration on projects for the ocean, climate and society.
Read the publication: https://iau-aiu.net/IMG/pdf/uib-_iau_highered-sdg14_2021.pdf
The International Association of Universities (IAU) and its flagship initiative for Higher Education and Research for Sustainable Development (HESD), the IAU Global HESD Cluster, have been advocating for more engagement of higher education with the SDGs, resulting in projects, including this publication series. With this series of publications, IAU aims to inspire other universities and researchers to take action to transform the world for the better through higher education. Together, we can help foster HE action for sustainable development and Agenda 2030.
Latest update: 18.09.2023